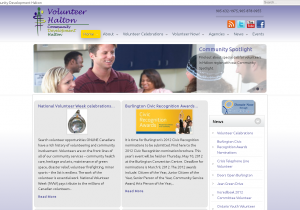 Volunteer Halton (http://volunteerhalton.ca/) is a site well worth checking out, mainly for the incredible work they do.
As a website, VH (along with the very shortly forthcoming Community Development Halton site) uses a lot of HTML5 and CSS3 features that developers have been waiting to use for about 5 years, while Internet Explorer (IE) tried to catch up with Firefox and the webkit browsers and the world was dragged kicking and screaming away from IE6.
Now that we can officially treat IE6 as dead, and developers are assisted by a lot of good tools that enable CSS3 features to work – almost – as well on IE7 and 8 as the other browsers, it suddenly opens up a lot of opportunities to do gradients, rounded corners and drop shadows without having to play jigsaw puzzle with a thousand tiny images.
The site also uses a fairly complex implementation of Joomla and CiviCRM for the large CDH/VH contacts database and membership. We customized Joomla a bit to allow two sites running from the same database.